August through October brought harsh weather conditions for the U.S and globally. Numerous hurricanes, fires, and earthquakes disrupted daily living all over the world.
Texas, Florida, Puerto Rico and other U.S territories were hit hard with natural disasters that left communities destroyed and shaken. We hope that any and everyone who has been affected has received the help they need or have access to help.
During the time of Hurricane Irma, the city of St. Augustine and many other surrounding cities took to prepare for the weather that was expected to hit. Our business was closed down for four days in September to protect our staff during these weather conditions along with many other businesses also closing to ensure maximum safety of our community. But even during these rough weather conditions, many people worked to help protect our community like our Sheriff's office here in St. Augustine.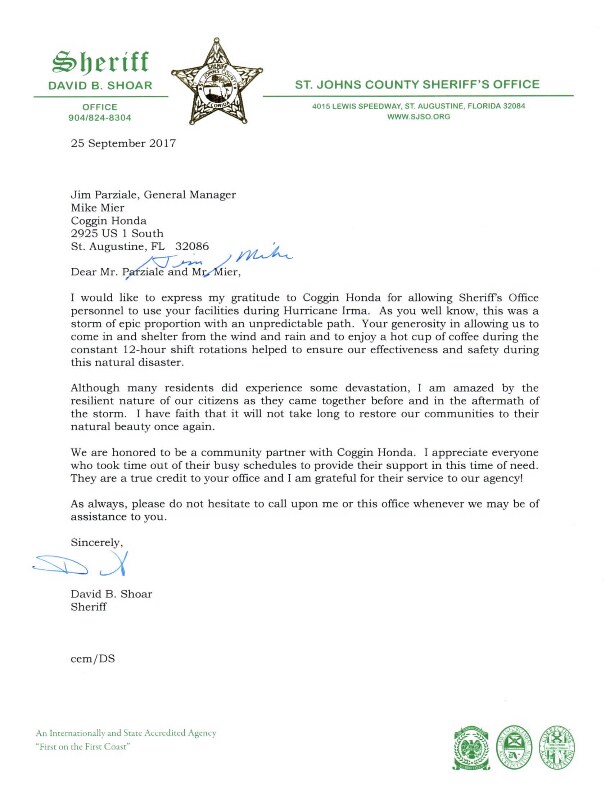 Coggin Honda of St. Augustine opened our doors as a safe place for our Sheriff's Office personnel to conduct business and work during the rough weather conditions. Allowing the hardworking staff of the office work 12-hour rotation shifts to help monitor the storm and community was such an honor for us here at Coggin Honda of St. Augustine, and we are grateful that we were able to help out in such a way.
We thank you David Shoar for your letter of acknowledgement and assure you that we greatly appreciate your kind words for our business. We strive to provide excellent service to our community for all of your automotive needs and to be able to lend a helping hand during the storm was an honor. The safety of our community is important and we are here to help in any way we can to protect St. Augustine.
---
We hope to serve our community to the best of our capabilities for many more years to come.
Stop by Coggin Honda of St. Augustine if we can ever be of any assistance to you for all of your automotive needs. We thrive in sales, service & maintenance and offer an array vehicles and services to choose from.
Until next time,
Coggin Honda of St. Augustine